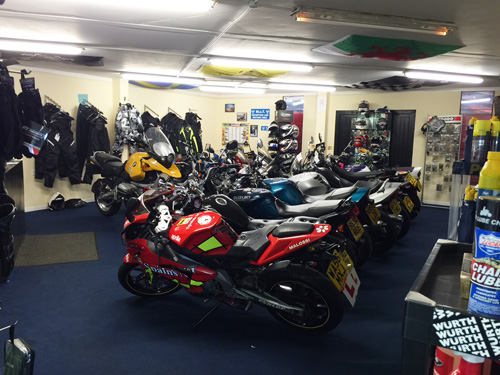 We stock a range of new and used bikes along with clothing and accessories at our premises in Cresselly SA68 0SP. Come along and browse our facilities.
Keeping your bike in tip-top condition so it's safe when you're out on the road is a number one priority.  It's great if you have the tools, equipment, time and knowledge to maintain your own machine – but when you've reached the limit of your expertise, or you prefer riding it to tinkering with it – call us at West Wales Motorcycles Ltd and get one of our experts to fix it up.
We have a wealth of experience, so you can be assured of a friendly and personal service. Our fully equipped workshop is able to cater for all your requirements.
In addition, we keep you fully informed of progress during work on your bike and will not spend your money without checking with you first. We never forget you are the customer.
  We also offer a nationwide motorcycle recovery, delivery & collection service.
Storage is also available. Need a bike delivered... We're at your service.